Please find the dates below that each church is scheduled to assist with cooking for the summer 2019 camp season.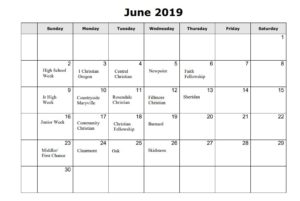 Dear Friends, There is no way we could do camp without the help of our visiting cooks. You are part of the soul of the camp and share in all our success. Please find your church name on the calendar box for the day we would like you to come. Please plan on being there at 10:30 for the lunch shift. If you have a different group coming in the afternoon they should plan on being there about 4:00 for the supper shift.
If you have any questions please email me at tatkins@northandrew.org
Thanks for all you do.
Tammy Atkins – Camp cook